profile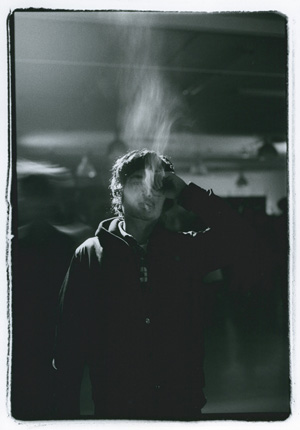 DISKAH(DAISUKE TANAKA, DEE, DAIKON)
Born and raised in Tokyo, JAPAN. He is an artist, photographer and skateboader.
Most of his artwork comes from his experience being on the streets and skateboading.
He is a self-taught painter and photographer. He uses his medium to alter the boundaries of the technique and style to avoid being pigeonholed. Artistically, he uses a wide range of techniques to create various unique characters and rich textures from a free hand base. His photographical focus is the street; he documents the multifaceted nature of people and their relation to the scenery. His art and photography has been used in fashion, music, and advertisements. He has participated in both domestic and international solo and group exhibitions. In addition, he is supported from Knowledge Japan and Donkey Sox as a skateboarder.


東京都出身。アーティスト/写真家/スケートボーダー。
作品の多くはスケートボードやストリートでの体験をもとに生み出される。
絵、写真ともに独学。アートワークではフリーハンドのラインをベースに、多種多様な手法を用いてキャラクターやテクスチャーなど様々なモチーフを描き出す。写真では主にストリートからの視点で世の中をドキュメントし続けている。国内外での個展やグループ展等への出展のほか、ファッション、音楽、広告への作品提供など多方面で活動を行っている。また、スケートボーダーとしてKNOWLEDGE JAPAN、DONKEY SOXからサポートを受けている。
作品集
「The Inside Blues」(2010)K.M.L.BOOKS発行
写真集
「オリジナルワールドネットワーカー」(2006)アートデイズ発行


CLIENTS
ALMELLOWS, AREth, BLOCK BASTA, B.S.K.K, CHOUCHOU, D/HILL, Dickies, Dior, DJ KRUSH, DORCUS,
DMB PRODUCTION, FAR YEAST BREWING, GOLD SCHOOL, GOOGLE, GU, Hi-STANDARD, HOOD,
INTERFACE, JOURNAL STANDARD, KEMURI, KINMEGURO, KNOWLEDGE, Libertin DUNE,
MARYJOY RECORDS, NICHE, NIKE, MARKER STUDIO, OUGHT MANEUVER,
OUTFLOW SNOWBOARDS, PFK, PMA, PROD.LR, Rehacer, REDBULL, RAH,
Roar, SAVNAC, SHIKORO SKATES, SONY, SSZ, STANCE PUNKS, SFP,
TIMENESS POP STORE, TOKYO CULTUART by BEAMS,
TOKI HIROMI, TRICK'S, TUKEMEN GANJA,
UNDERGROUND RAMEN, VIORENT GRIND,
VOLCOM, ZERO MAGAZINE and etc